Complimentary Private Consultation:
708-873-5502.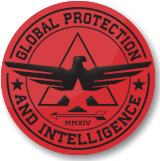 Global Protection and Intelligence is a culmination of the best proven practices and policies synthesized from the lifelong professional experiences of its founders. The agency's intelligence based approach was blended from the exclusive practices within the CIA, finance, celebrity protection, and corporate investigations.
Global Protection and Intelligence customizes every service to meet your specific needs. The first step in assisting you in every way possible is to begin with a private complementary consultation with your personal agency representative.
Global Protection and Intelligence hand picks only the best from the military, law enforcement and private security fields and train them to the highest standard in the industry. Our agents are experts in personal protection, intelligence gathering, interrogations, training planning and executing any service you require.
Our company also provides training all over the United States or in your office. Check out our Corporate training page for more information.





Corporate Intelligence I Executive Protection I Investigations I Risk Assessment and Management I Training I Yacht and Aviation Protection
Agency License Number 117.001711 expires August 31, 2017 *License information may be verified through the State of Illinois Department of Financial and Professional Regulation.